September 2018
Dewey entered 'Undetermined Intentions' in the open class category for judging at the Wisconsin Vernon County Fair. The mediums for this drawing was graphite and carbon on illustration board.
His work of art won the 1st Place, Grand Champion, and a Merit Award!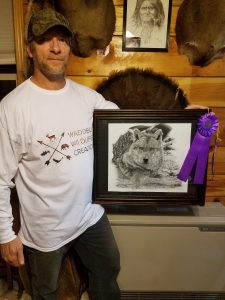 The Vernon Count Fair event was a good experience with many talented artist's work on display.
The last time Dewey participated in a fair event was at the age of 13 through the local 4H.